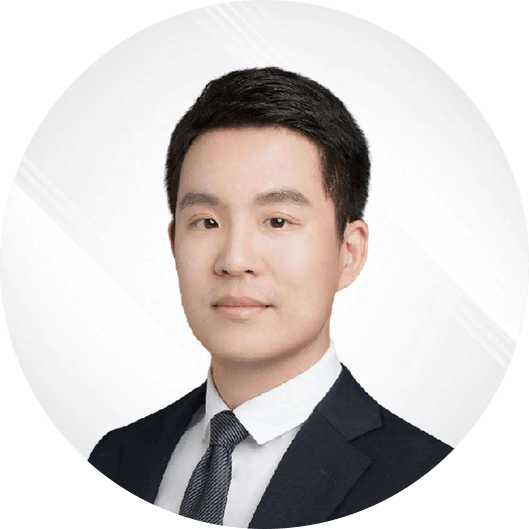 Founder, Chairman
Dr. Xu is a founder and Chairman of Cure Genetics. He received his Ph.D. in Biology from Tsinghua University and completed postdoctoral research at Yale University, focusing on structural and functional studies of proteins related to DNA damage, repair and tumorigenesis. Dr. Xu also has rich experience in research and development of new therapies for genetic diseases and cancers. Before founding Cure Genetics, he was Vice President of Biopharmaceutical R&D at Yabao Pharmaceutical Co., Ltd.. He is also an adjunct Professor at Soochow University.
Co-Founder, President
Dr. Liu is co-founder and president of Cure Genetics. He received his M.D. & Ph.D. from Peking Union Medical College. He has over 20 years' experience of novel biological drug R&D in bio-pharma industry. Prior to Cure Genetics, Dr. Li has previously served as CSO at Livzon Pharmaceuticals, VP & CSO at Hengrui Medicine Groups, VP at Teva Pharm., and R&D director in Roche/Genentech and Tanox. Dr. Liu is one of the early scientists to apply monoclonal antibody technology in research and development of biologic drugs. Dr. Liu has led more than 100 biological projects and promoted successful approval of 12 biological drugs. He also successfully established a number of innovative drug technology platforms, including gene vector and cell therapy technology. He is also an adjunct Professor at Maryland University.
Chief Scientific Officer
Dr. Shawn He has over two decades of experience in cell therapy research and development, as well as managing R&D teams at leading global biotechnology companies. Before joining Cure Genetics, Shawn served as Executive Vice President of Research and Early Development at Celularity, where he developed a pipeline of novel allogeneic CAR-T and CAR-NK cell therapies, and guided R&D efforts for two different cell therapy products to clinical-stage development. Earlier, Shawn held various positions of increasing scope and responsibility at Celgene Cellular Therapeutics, and his team advanced three cell therapy product candidates into IND-enabling studies with all of them reaching the clinic for eight different indications. Shawn received his PhD from University of Maryland at College Park.
Chief Technology Officer
Dr. Ren is a seasoned expert in cell therapy, boasting over 20 years of experience developing and advancing cell therapy drug candidates from pre-clinical to commercial licensure across US, EU, and Japan. Dr. Ren has led the process and analytical development of multiple allogeneic & autologous cell therapy products over her career, including CAR T cells, TCR cells, NK cells, CAR-NK cells and mesenchymal-like stem cells. Over the course of her career, Dr. Ren has supported multiple IND submissions for cell therapy pipeline products to enable clinical trials and designed and led process & analytical validation programs in support of commercial registration filing.

Before her tenure at Cure Genetics, Dr. Ren served as the Vice President of Technical Operations at Chimeric Therapeutics, overseeing the Process Development, Analytical Development, and Manufacturing of its development pipeline. Before Chimeric, Dr. Ren held the position of Director at Bristol-Myers Squibb (BMS) where she was responsible for the technology transfers of Juno's cell therapy pipeline products to BMS GMP manufacturing facilities. Earlier in her career, Dr. Ren held various leadership roles at Celgene Corporation and Celgene Cellular Therapeutics, where she led the CMC development of multiple allogeneic and autologous cell therapy products. Dr. Ren earned her Ph.D. from Ocean University of China.
Co-Founder, Chief Scientist
Dr. Lin is co-founder and chief scientist of Cure Genetics. She received her Ph.D. in biomedical engineering from Georgia Institute of Technology/Emory University and B.Sc. in biological science and technology from Tsinghua University. She has over 10 years of experience in genetic modification and translational experiences using TALENs and CRISPR/Cas9 tools in mammalian systems. Dr. Lin previously served as research scientist in Synthetic Genomics and is one of inventors of TALENTM. She is an adjunct Professor at Soochow University.